Real estate software integration is the key to streamlining any business operation and Pro Gold i2 is a completely integrated Broker Management System available to the real estate industry.
For more than two decades, Taro Systems has responded to the broker's business needs, offering an all-encompassing real estate software system to the real estate industry. The Pro Gold i2 package and modules covers all aspects of real estate office management, from the front office processes to those in the back office, including full integration with franchise reporting systems and MLS interface.
Pro Gold i2 operates within a SingleEntry, Single Source(SM) protocol to save your company time and money through the elimination of excess staffing hours and mundane inputting tasks. Your data is entered into the system once and then transferred throughout the package to where the data is required.
Pro Gold i2 Properties Menu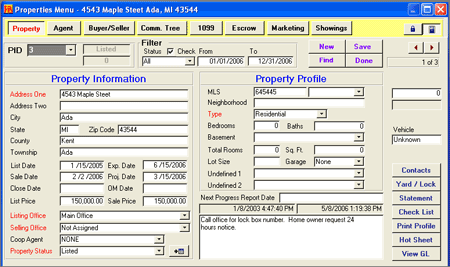 The above Properties Menu is just one of the convenient tab menus, which allow complete access to all of your Transaction & Sales Management information. Effectively managing transactions and Sales Associates is key to running a successful real estate company.
Pro Gold i2 + ViewMyListing.com + MLS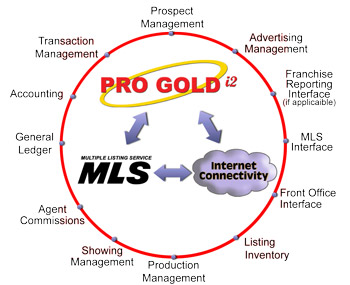 Designed to eliminate data duplication, Pro Gold i2 integrates your office processes, including transaction management, accounting, MLS data feed , franchise Crest EDG systems, and optional Internet interface into one easy to use streamlined package.
Pro Gold i2 Front Office Management

Managing the buyer and seller contacts that come into your office, knowing where these contacts were generated, and how they are progressing through their real estate experience is essential to closing more transactions. Pro Gold i2 has an excellently defined customer relationship management system built in as well as tracking systems that enable you to evaluate your source of call and the effectiveness of your advertising activities. Pro Gold i2 couples a tickler system, online and offline seller progress reporting tools, custom form letters and reports. In addition, the front office system is fully integrated with the back office system.
Front Office Features include:
Sales Lead Contact History Tracking
Referral Check Processing
Source of Call Tracking
Appointment Tracking System
Custom Form Letters
Custom Follow-up Schedule
Sales Lead Assignment Tracking
Relocation Tracking
Ad Media Management
Seller Progress Reporting
Complete Showing Module with Integration to ViewMyListing.com
Pro Gold i2 Back Office Functionality
From the listing agreement through pendings, closed transactions, financial capabilities, and everything in-between, Pro Gold i2 is your one stop solution to Back Office Management. Accurate accounting practices are important to the success of any company. In the real estate industry, integration with the remainder of the office is just as important.
Back Office Features include:
Agent Production Reporting
1099 Reporting Form Printing
1099 Electronic Reporting
Advertising Management
Auto Commission Calculation
Branch Office Reporting
Custom Commission Plans
Accounts Payables
Accounts Receivable
Agent Invoicing System
General Ledger
General Ledger Trial Balances
Comprehensive Payroll System
Check Writing
Complete Check Book Functions
Escrow Banking
Bank Reconciling
Transaction Check List
Agent/Office Pending/Closed Reports
Expired Listing Reporting
Lock Box/Yard Inventory Control
Income Projection Reports
Associate Production Reporting
Activity Tickler Reporting
Optional MLS Interface
LeadRouter Interface for ERA®, Century 21® & Coldwell Banker®
Financial Statements
Commission Check Processing / Statements
Optional Franchise Reporting Interface for Century 21®, Coldwell Banker®, ERA®, RE/MAX®, and Weichert, Realtors®
Internet Integration with ViewMyListing.com
An important business segment employed by progressive business people operating in today's world is the internet. Integration with this technology is crucial to the minimization of additional employee hours through the duplication of data across multiple systems. Franchise reporting protocols, MLS systems, and agent / office task management tools are the most common internet based applications an average brokerage uses. Pro Gold i2 seamlessly integrates with each system to ensure a smooth transition of accurate data throughout the office and beyond.
ViewMyListing.com Features include:
Appointment Tracking System
Comprehensive CRM Capabilities
Personal Agent Web Sites
Text Messaging Capabilities
Online Seller Progress Reporting
Auto Contact Email Reminders
Agent/Company Calendar
Auto Showing Surveys/Feedback
Auto Email Appointment Reminders
Auto Listing Expiring Alert Emails
Online Agent Contact Management
Listing Photo
Online Listing Activity Management
Auto Email Marketing Campaign
Auto Seller Email Activity Reminders
Auto Listing Price Evaluation Emails
Lead Tickler / Reminder Functions
24 hours, 7 days a Week Online Access
Integrates to Your Company's Website
Integrates to Back Office Agent Invoicing System
About Taro Systems, Inc.
Taro Systems, Inc. has been providing software solutions exclusively to the real estate industry for
more than twenty five (25) years.
This industry longevity and experience has allowed Taro Systems to develop a broker management system specifically tailored for the real estate industry.
Pro Gold i2
provides the tools needed to automate and streamline your back office processes.
For more information, please contact us at (800) 949-3330, or click here and let us know who to contact.